Parking Lot Striping | LINE PAINTING
Parking Lot Striping | Line Painting
For over 29 years, property managers have trusted us
with their large parking lot striping projects.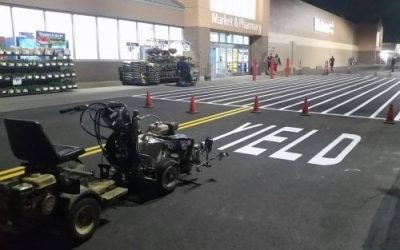 Parking lot restriping and line painting tells your tenants and customers that you operate a professionally maintained facility. The parking lot is the first and last thing noticed when visiting your property. High contrast traffic marking paints clearly show visitors where to drive (or where not to), where to park, speed limits and other vital information. Fresh pavement markings are one of the quickest and most inexpensive improvements that you can make. Visitors will notice the improvement, as early as their next visit.
Benefits of properly striped parking lots
In addition to new parking lot striping, we also restripe existing lots.
Our crews complete large parking lot striping projects.
Let us quote your parking lot line striping project!
Are you in need of expert parking lot striping services in the Charlotte metro area?
Look no further than Caro Line Parking Lot Striping – your trusted partner for all things related to parking lot maintenance, enhancement, and safety. With our extensive experience and dedication to quality, we proudly serve Charlotte and all suburbs in the metro area.
Our Services
At Caro Line Parking Lot Striping, we understand that a well-maintained parking lot is essential for creating a positive first impression for your customers, enhancing safety, and maximizing space utilization. Our comprehensive range of parking lot striping services covers every aspect of your parking area needs:
Line Striping and Restriping: Faded lines can lead to confusion and potential hazards. Our skilled technicians use the latest equipment and premium-quality paints to create crisp, durable lines that enhance traffic flow and ensure a safe environment for both pedestrians and drivers.
Our Service Area
Caro Line Parking Lot Striping is proud to serve Charlotte and its neighboring communities. We extend our expert parking lot striping services to several prominent suburbs, including:
Our Extensive Service Area Includes:
Concord: As a thriving suburb of Charlotte, Concord is known for its dynamic community and diverse businesses. Our parking lot striping services ensure that your Concord property makes a positive first impression. With clear and organized markings, we help enhance the overall aesthetic and functionality of your parking lot, contributing to a better customer experience.
Matthews: The charming town of Matthews deserves parking facilities that reflect its unique character. Our expert striping services in Matthews guarantee that your parking lot is not only visually appealing but also optimized for traffic flow and safety. We understand the balance between aesthetics and functionality, ensuring your parking area caters to both aspects seamlessly.
Huntersville: As one of the fastest-growing suburbs, Huntersville demands top-notch parking lot solutions. Our team excels in creating parking lot designs that accommodate the increasing traffic while maintaining a polished appearance. Whether you need clear signage for ease of navigation or accessible parking spaces, we provide Huntersville with striping services that meet these demands and more.
Atlanta: As one of the most bustling metro areas in the country, we also have line striping crews serving the Atlanta, GA metro area. Those crews also perform parking lot striping and line painting, as well as warehouse floor striping and tape installation. 
Gastonia: Serving Gastonia and its businesses, our striping services contribute to creating a safe and orderly parking environment. Whether your property requires fresh line striping or restriping, our team ensures that the markings are vivid and durable. Gastonia's businesses can trust us to deliver results that enhance the functionality and visual appeal of their parking lots.
Mint Hill: In Mint Hill, a well-designed parking lot speaks volumes about your business's professionalism. Our team caters to Mint Hill's unique requirements, offering customized solutions such as stenciling for reserved spots and other special markings. We recognize the importance of aligning the aesthetics of your parking lot with the values of your business, and our services reflect just that.
Pineville: Pineville's businesses can rely on our expertise to maintain an organized and attractive parking lot. Our commitment to precision ensures that your parking area stands out and serves its purpose effectively. From clear lines to handicap accessible spaces, we make sure your Pineville property is equipped with markings that are compliant and visually appealing.
Belmont: As a picturesque suburb, Belmont deserves parking lots that enhance its charm. Our striping services contribute to creating an inviting atmosphere for your business by providing accurate markings and signs. We understand that each property is unique, and our approach in Belmont ensures that your parking area aligns with the aesthetics and goals of your business.
Indian Trail: The growing community of Indian Trail benefits from our parking lot solutions that accommodate increased traffic and safety needs. We design and restripe parking lots to maximize space and ensure a smooth flow of vehicles and pedestrians. Our services in Indian Trail are geared towards creating an organized and accessible parking environment.
Stallings: Stallings' businesses can rely on us to maintain a parking lot that reflects professionalism and efficiency. Our striping services cater to the unique needs of your property, whether it's for retail, commercial, or residential use. Stallings benefits from our dedication to creating markings that enhance safety and visual appeal.
Lake Wylie: As a lakeside community, Lake Wylie's businesses require parking lots that match its natural beauty. Our striping services incorporate this aesthetic consideration while maintaining functionality. Whether it's ensuring proper traffic flow or creating inviting markings, our services in Lake Wylie contribute to the overall appeal of your property.
Mooresville: We are excited to extend our top-notch parking lot striping services to Mooresville, another vibrant suburb within our service area. With a focus on quality, precision, and compliance, we're here to help enhance your Mooresville property's parking lot. From creating clearly marked spaces to ensuring smooth traffic flow, our expertise is at your service.
Cornelius: As part of our commitment to serving the Charlotte area, we're pleased to offer our exceptional striping services to Cornelius. With meticulous attention to detail, we ensure your parking lot meets the highest standards of safety and functionality. From clear line markings to handicap spaces, we help create an efficient and visually appealing parking environment in Cornelius.
Tega Cay: Our commitment to serving the Charlotte area extends to Tega Cay, offering our expert parking lot striping services to this vibrant community. Whether you need restriping, new line markings, or custom stenciling, we ensure that your Tega Cay property's parking lot meets the highest standards of quality, safety, and visual appeal.
Fort Mill and Rock Hill: These neighboring South Carolina communities benefit from our expertise in parking lot striping. Whether your property is in Fort Mill or Rock Hill, our services enhance the organization and visual appeal of your parking area. We prioritize safety, accessibility, and compliance in all our projects to provide optimal parking solutions.
Weddington and Ballantyne: These upscale suburbs deserve parking lots that align with their premium surroundings. Our striping services cater to the aesthetic and functional demands of Weddington and Ballantyne. With clear markings, proper signage, and accessible spaces, we ensure that your parking lot enhances your property's overall image.
Why Choose Caro Line Parking Lot Striping?
When you choose us for your parking lot striping needs, you're choosing excellence, professionalism, and attention to detail. Our team of experienced technicians is dedicated to delivering results that exceed your expectations. Here's why we're the preferred choice in the Charlotte, NC area:
Expertise: With 30 years of industry experience, we bring unmatched expertise to every project.

Quality Materials: We use top-quality paints and materials to ensure longevity and vibrancy in all our markings.

Attention to Detail: We understand that the little things matter. Our keen eye for detail ensures precise and accurate striping every tim

e.

Compliance: Our services adhere to local regulations and national standards, ensuring your parking lot is both visually appealing and functional.
At Caro Line Parking Lot Striping, we're not just striping parking lots; we're creating safer, more efficient, and visually appealing spaces that make a lasting impression.
 Contact us today to schedule a free consultation and experience the difference of working with Charlotte's champion parking lot striping company.